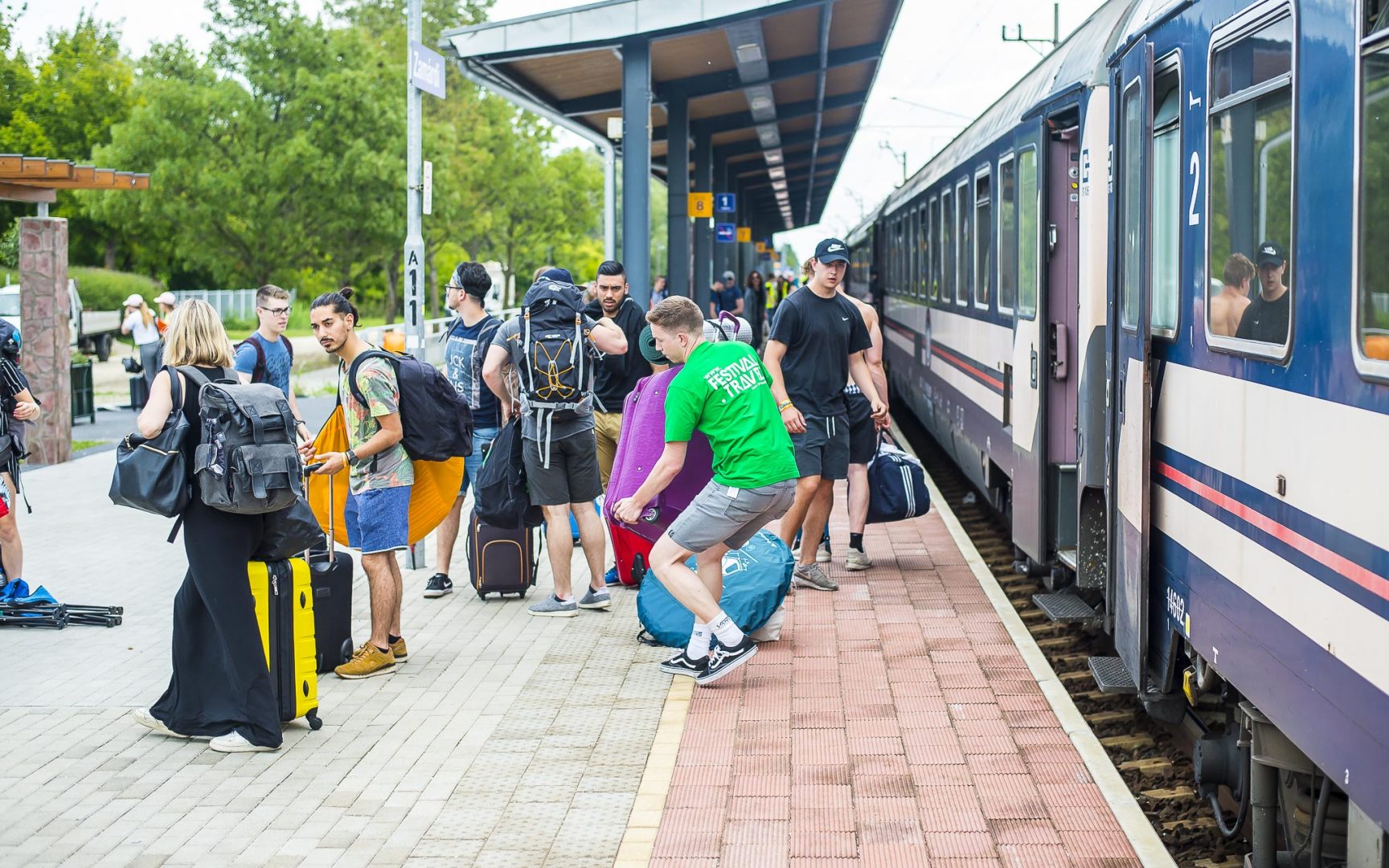 General information festival trains
Everything you need to know about the festival trains
Already more than 10 years we've been organizing international festival trains in Europe. Here you can find all general information you need for the Balaton Sound Express or the Sziget Express. Specific information about, among others, available seats, prices and locations are to be found on the respective pages of the different festival trains. Is something unclear or do you have other questions that we can help you with? Then please contact us.
What you are required to take with you:
A valid identity card. The number of the identity card must correspond with the document number in your Festival.Travel account.
A valid printed train ticket* for both the outward and return journey. These can be downloaded separately after the seating plan has been established.
*At least a week before departure you receive an email with an invitation for your own Festival Travel account. Here you can download the ticket and review your complete order.
What you can take with you:
Up to 6 cans (33cl) of beer, 1 plastic bottle of wine or other drinks with the same amount of alcohol per traveller.
Food and non-alcoholic beverages in non-commercial quantities. We recommend to take at least enough water and some food with you.
Three luggage items, including;
Backpack or suitcase
Hand luggage
Tent
What you can not take with you:
Large luggage such as party tents, surfboards and skateboards
Unnecessary luggage such as pets, house plants and paintings
Drugs
Weapons
Glass items
Facilities:
Toilets
Bar wagon
Bistro wagon
Wash bins
Space for your luggage in your own compartment
What time does the festival train depart?
The intention is to let the festival trains depart around noon. However, the exact times will be communicated at least a week before departure. The reason the departure times are only known so late is because the trains travel through different countries with all individual rail schedules that can not be planned months ahead. To make sure everything runs smoothly at the train station, we ask you to be there at least an hour before departure.
How are the seats assigned?
In case you buy multiple tickets (of the same comfort level) within one order, you wil automatically be placed together in one compartment. If the group is bigger than the amount of seats in the compartment, the group will be divided over two neighbouring compartments.

Did you purchase tickets (of the same comfort level) separately from each other? That's no problem, a few weeks before departure you will be able t hand in a placement request via your personal Festival Travel account, so we can assign seats next to each other. The final seating plan will be made a few days before departure, to give you more than enough time to submit your seating preferences.
Can I book a one-way ticket?
It's only possible to buy return tickets. However, it is an option to split up the ticket into two tickets for a €10 administration fee per ticket. In that case it's your job to find someone who wants to take over the other part of the journey. Also, it's your responsibility to take care of the payment. For more information you can send us an email via the contact page.
Can I pay by card in the train?
It's not possible to pay by card in our trains, so please take enough cash money with you. Paying by card is not possible because there's not always internet connection in the train.
Can I eat and drink in the train?
In the bistro wagon and bar wagon it's possible to buy drinks like beer, wine, coffee, tea and sodas. Also there are sandwiches, snacks and simple meals available. It's highly recommended to also take enough water and food with you yourself.
Can I sell my train ticket?
You can only sell your train ticket by manually transferring the ticket via Festival Travel. This is because directly after the purchase, the ticket gets linked to the customer and becomes personalized. To change the ticket's owner, we charge a one-off fee, no matter what the amount of tickets is. When you hand in a request to sell your ticket(s), you will subsequently receive an invoice. Changing a ticket's owner is possible until two weeks before departure.

When you buy a ticket for a festival train of Festival Travel, you agree to our general terms and conditions. Questions? Please contact us. The crew on the station and in the train is of course also there to help and assist you if anything is unclear.
Why?
Experience begins upon departure
Freedom to move in the train
Enough luggage space
Food and drinks available
DJ's on board
Festival trains